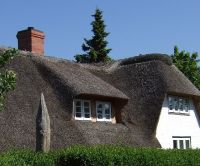 Despite common assumptions, thatch fires are no more likely to occur than conventional roof materials provided the correct precautions are taken.
However once thatch does set alight, it spreads rapidly and is more difficult to extinguish. Thatched roofs are also
more expensive
to replace so fireproofing your thatch can help ensure minimal damage is caused should a fire ignite.
There are ways you can provide additional fire protection for your thatched roof to help prevent a fire starting or reduce the spread of the fire.
1. Fire retardant sprays
– Using thatch fire retardant sprays will give your roof an additional layer of protection. Along with fireproofing your thatch, fire retardant sprays are also waterproof meaning they will not wash off. There are two types of sprays – indoor and outdoor.
External spray must be applied directly onto the outer thatch in an upward motion. Apply at an angle to ensure you cover more than just the visible layer of thatch and the spray gets beneath the surface layer. External fire retardant spray is designed to give 10 years protection, however it is advisable to check it every 5 years.
Internal spray should be applied to the internal surface and – providing the roof is kept in a good state of repair – should not need to be reapplied.

2. Aluminium Barrier Foil – Chosen for its strength and non-flammable material, aluminium barrier foil provides a layer of protection for your thatched roof that is not only fire resistant but is also strong and weatherproof. The barrier is applied with a minimum of 50mm overlap to ensure there is no way of rain or fire penetrating the material.

3. Thatch batts – Thatch batts are installed between the thatch and the rafters to provide additional protection for thatched roofs. They are made of lightweight high quality resin bonded Rockwool which slows the spread of a fire. Tests have shown that insulation can reduce the spread of fire by up to 1 hour, ensuring more time for the Fire and Rescue Service to arrive.

4. Chimney heat monitor – To help prevent a thatch fire, consider installing a chimney heat monitor to check the temperature between brickwork and the thatch. Should the temperature reach unsafe levels, an alarm will sound allowing you to act and reduce the risk of a fire.
It is always best to protect your thatched roof to minimise the risk of a fire starting or spreading. In the event of a fire, call the Fire and Rescue Service immediately – no matter how small – to ensure they arrive as quickly as possible before the fire spreads.
At Higos, our dedicated thatch insurance team are on hand to provide bespoke cover to suit your requirements, providing peace of mind should the worst happen. For more information on our thatch insurance policies, visit our dedicated page here or call the team on 01458 270 352.