Modern thatching methods have made thatch one of the strongest, most durable materials used on roofs today. Thatch is a naturally weather resistant material which is still used on thousands of homes across the UK.
The three most
common thatching materials
are water reed, combed wheat reed and long straw. The strength and longevity of a thatched roof depends on the chosen material, all of which are highly weather proof.
Rain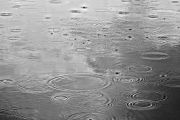 When correctly installed by a professional, thatch is highly water resistant. When water hits a thatched roof, it will simply run off in a similar way to standard materials.

The optimum depth of a thatched roof made from water reed is between 9-15 inches and for combed wheat reed is 9-12 inches. It is extremely rare for water to penetrate a thatched roof more than an inch or two.
One preferred material for thatched roofs is water reed which is naturally waterproof. While the inside is hollow, the outer layers of water reed overlap which creates a water resistant barrier. When water reed is bundled together it creates a highly water resistant, strong material that has been used on thatched houses and thatched cottages for centuries.
Wind
It is highly unlikely for a thatched roof to be damaged by wind when fitted properly.

Thatch is thought to withstand strong winds better than most standard materials. It is a natural insulator that works to keep a thatched house or thatched cottages cool in the summer and warm in the winter.
In addition, wire netting can also be installed. Wire netting on a thatched roof works as a protective barrier strengthening its resistance to wind.
Fire
Unlike common presumptions, thatch is no more likely to catch fire than standard slate or tile roofs. However if a thatched roof fire was to ignite, it will spread more rapidly.
Thatch has been used on homes and cottages for centuries and has continued to be highly resistant to severe weather conditions. It is essential to maintain the upkeep of your thatched roof to ensure it remains as strong and durable as possible.
If you own a thatched property and would like more information on thatch insurance, click here or call our dedicated team on 01458 270 352.