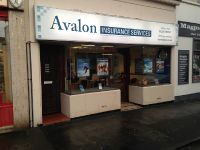 Somerset based Avalon Insurance Services Ltd has been acquired by Higos Insurance Services Ltd.
Higos was launched in Somerset in 1990 and has grown to employ more than 250 staff across 22 offices in the South West, along with representatives located throughout the UK.
Avalon Insurance Services has been trading in Street, Somerset for the past 23 years and in 2004 opened a second branch in Burnham-on-Sea. Both branches will trade under the Avalon Insurance Services name and retain all existing customer service staff.
The two Avalon branches will become part of the Higos group from 1 February 2015
Robert Bray and John Baker issued the following statement following the acquisition "It gives us great pleasure to announce the acquisition of Avalon Insurance Services by Higos Insurance Services Ltd. Our decision to join with Higos was motivated by our shared goals of professionalism, providing the best service to our clients with a wider range of competitive products and excellent career opportunities for our staff. It is clear that our values and ethos are mirrored by Higos and the synergy is apparent to all. By joining Higos, Avalon will access all the facilities and resources of this much larger organisation, allowing staff to concentrate on customer service and products, rather than the day to day logistics. The move provides excellent career opportunities for our staff and we are convinced that our clients can only benefit from this merger."
John continued "I am personally delighted to be taking on the role Commercial Account Executive, not dealing with the day to day running of an office will allow me to concentrate on helping clients with their Insurance needs. I have great respect for the enthusiasm and innovation of Ian Gosden, and his team, and look forward to an exciting decade ahead. I welcome the opportunity to maintain my involvement with the business and help ensure a seamless transition."
Robert Bray added: "I am extremely pleased that Avalon Insurance Services has joined with Higos Insurance Services. It represents an excellent opportunity for both parties. The enthusiasm and professionalism of the Higos team will enable us to build on our success and continue to grow our business throughout Somerset and beyond. I will continue as Branch Manager in Street, with the main object over the next 12 months to make sure the transition proceeds with success for our staff and clients"
Founder and Managing Director of Higos Insurance Services, Ian Gosden said: "We are delighted to have extended our branch network by acquiring Avalon Insurance Services Ltd. Higos has nearly twenty five years' experience of providing tailored solutions for a wide range of personal and commercial insurance needs. Alongside our acquisition plans, we continue to bring new and innovative ideas and products to the market."