Higos celebrates 25th Anniversary
Tuesday 1st September 2015
Higos was established in Glastonbury in 1990 by Ian Gosden, who remains as Managing Director of the company. Whilst trading as a financial adviser, Ian found his clients regularly asked him about general insurance products and in response to their enquiries he established his first agencies with some of the nation's largest insurers. Other financial advisors, seeing the benefit of providing general insurance products direct to their clients, asked to use Ian's insurance agencies on a shared commission basis. The success of this concept resulted in Higos employing its first full time staff member in June 1991, nine months after the company was established. Higos now has agencies in place approximately 10,000 financial advisors, accountants and solicitors, who refer their clients to Higos for insurance advice.
In November 1995, the company moved to new premises in Wells to house its growing workforce and in 2001 a second site in Somerton was opened to accommodate new Training, HR and IT facilities for the then 60 strong team.
In 2006, Higos opened its first High Street branch in Glastonbury, Somerset. Since this date Higos has continued to increase its high street presence, acquiring additional insurance branches in 20 locations throughout the South and South West.
Further growth is planned, with Higos' largest acquisition so far joining the company in October 2015. Higos aims to have 40 sites by 2020.
Now employing over 260 staff, Higos continues to grow through acquisition, direct business, the agent network and its underwriting facility, which allows other insurance brokers to access Higos specialist insurance facilities.
Higos is proud to have received a number of insurance industry and regional accolades. In 2012 and 2008 Higos received the prestigious title of Independent Regional Broker of the Year at the Insurance Times Awards in London. On a regional level, Higos has received recognition at a number of events, including the Somerset Business Awards and the Western Gazette Business Awards. In addition, a number of Higos' staff have also received recognition throughout the industry at various awards ceremonies.

Higos will be celebrating its 25th anniversary with a party for staff at Haynes Motor Museum in October.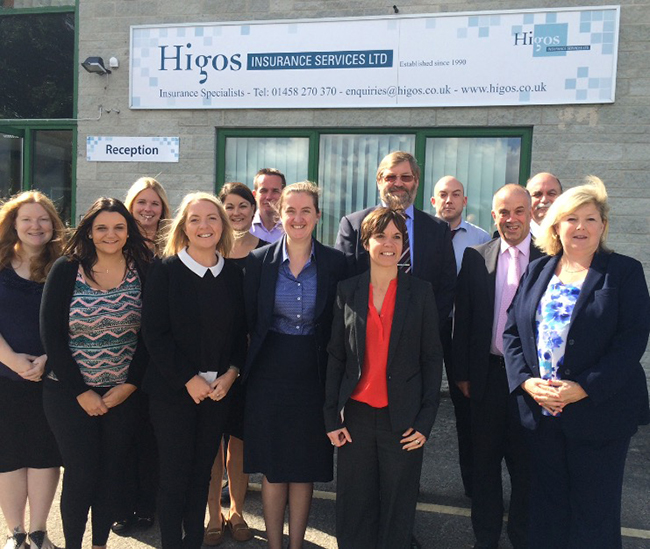 Back to News