Higos takes part in Lots of Socks for Ups and Downs Southwest
Tuesday 30th May 2017
Staff from Higos Insurance Services raised £250 for Ups and Downs Southwest by participating in the Lots of Socks campaign on 21 March 2017, World Down Syndrome Day.
Higos staff wore their craziest, most colourful socks in support of the Lots of Socks campaign. Ups and Downs - a Somerset based charity supporting parents, carers, families, friends and professionals involved with a child who has Down Syndrome - are Higos' partner charity of the year. The charity currently offers their services across the whole of the South West and aims to support children and young people with Down Syndrome in the best possible way to enable them to reach their full potential.
Higos staff were delighted to take part in Lots of Socks to raise funds for such an incredible, deserving charity and presented the donation to Michelle Sugg, Fundraising and Public Relations Officer for Ups and Downs.
"On behalf of everyone at Ups and Downs Southwest I would like to say a big thank you to Higos for their participation in the Lots of Socks campaign and their generous donation of £250" said Michelle. "The money they have raised will go towards the cost of our Youth Club in Weston-Super-Mare, a place where our young people can spend time with their peers, enjoying activities such as football and dance and being allowed to act like any other young person. Thank you Higos for your continued support."
Andrew Tanner, Communications and Media representative for Higos Charity Committee said "we are so pleased to donate £250 to Ups and Downs and the cheque presentation allowed new members of the Higos charity committee the opportunity to meet Michelle. Our meeting enabled new charity committee members to better understand why the charity was originally set up, the struggles they have faced and for us all to learn what they are planning in terms of fund raising events for the next year or so. We were also able to discuss where Higos can help during our 2 year partnership, as 2018 is their 21st anniversary!"
To find out more about Ups and Downs Southwest please visit upsanddowns.net

Pictured above: (left to right) Michelle Sugg, Ups and Downs Fundraising and Public Relations Officer, with Josie Slade, Koryl Callen & Ann-Marie Bennett from Higos Charity Committee
Pictured below: Some of the branches that took part in Lots of Socks on World Down Syndrome Day

Bridgwater branch

Langport branch

Bath branch

Somerton office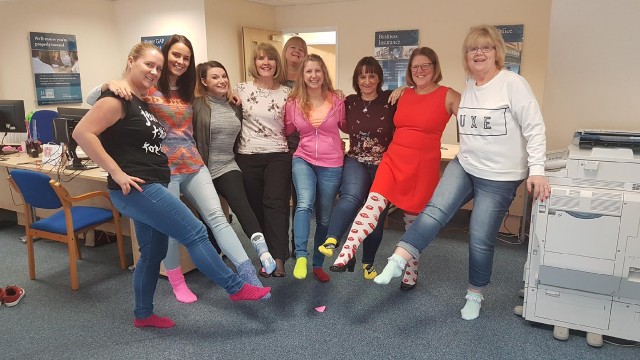 Park Gate branch
Back to News