Higos Partner Charity for 2019/20 Announced
Thursday 22nd November 2018
Higos Insurance Services is delighted to announce Jessie May Children's Hospice at Home as the new Higos Partner Charity for 2019/20.
Jessie May is a Bristol-based charity providing nursing care at home for children and young people with life limiting conditions who are not expected to live beyond the age of 19.
The charity was established in 1994 by Chris and Philippa Purrington, following the death of their baby daughter Jessica May. She died from a genetic condition known as severe Spinal Muscular Atrophy when she was only 4½ months old. While visiting relatives in Bristol the couple realised the support and treatment which had been available to Jessica May in High Wycombe was not available in the Bristol area. Jessica's parents were determined to allow families to have the treatment and support needed in their homes, and have the choice to die at home when the time comes.
No charge is made to families using the services of the charity, which relies almost entirely on voluntary funding. After the official launch of Jessie May in 1996 they have supported over 300 children and their families in Bristol, South Gloucestershire, North Somerset, Bath, North East Somerset, Swindon and Wiltshire. The charity's specialist nurses provide vital respite care to families in the comfort of their homes, as well as emotional support and end of life care. Jessie May also provides bereavement support to families for up to five years after a child has died.
Every two years The Higos Community Fund choose a charity to work with closely, providing monetary support, volunteering and a number of other activities which help the charity to raise money.
Emily Wright, of the Higos Community Fund commented, "Jessie May are an incredible charity who touch so many different lives and make a massive difference to the children and families they help. We are a community broker and this is definitely a community charity, one which we look forward to working closely with over the next two years."
Higos have started the partnership by creating 22 amazing Christmas hampers, the majority of which will be raffled off at the Jessie May Christmas Party on Sunday (25 November), with the rest being used for other fundraising events and special days.
The Higos Community Fund have also purchased 160 Chocolate selection boxes, with members of the community fund wrapping each one individually! These selection boxes will go to the siblings of Jessie May children during respite visits.
Andrew Tanner, of the Higos Community Fund commented, "When we delivered the Christmas hampers and selection boxes to Jessie May their faces just lit up, we are so happy and so proud that we can help to make a difference to the lives of these children and their families."
Lindsay Horton, Corporate Partnerships Officer at Jessie May, said: "We are absolutely thrilled Higos Insurance Services have chosen to support Jessie May!
"We are delighted to be their charity partner for 2019/20 and have already been blown away by their generosity – and fantastic creative efforts! - with the wonderful Christmas hampers and selection boxes. It is clear so much time and effort has gone in to creating all these beautiful gifts, and we will be putting them to the very best use possible!
"Jessie May is a small charity and we rely heavily on voluntary funding and corporate support to ensure our nurses can provide their specialist care to terminally ill children and their families. Only with the help of supporters like Higos can we continue to fund our dedicated team of nurses, who put the children we support at the heart of their work.
"This is the start of a very special relationship and we're extremely excited to work with our amazing supporters at Higos. We cannot thank them enough."
Jessie May are taking part in The Big Give Christmas Challenge this year, meaning that for seven days between the 27thNovember (#GivingTuesday) and midday on Tuesday 4thDecember, all donations received on theBigGive.org.uk will be doubled. The charity are aiming to raise £23,100 which will allow 11 additional life limited children to be helped by their services. Donations will only be doubled through the charity's Big Give profile found here.
If you would like to find out more information about Jessie May or The Big Give Christmas Challenge please visit https://www.jessiemay.org.uk
If you would like further information about the Higos Community Fund please visit https://www.higos.co.uk/corporate-social-responsibility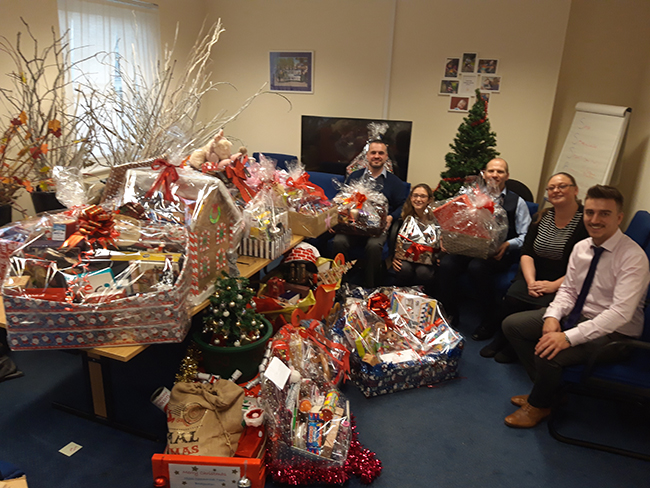 Back to News